Are you looking for a Tampa Dentist? Our website is the place to start.
Dr. Harold T. Enlow, Jr. and Dr. Frederick A. Vance met and began practicing together in Tampa in 1990. Two years later, the doctors formed their partnership with a clear knowledge that they shared guiding principles regarding the practice of high quality dentistry that would enhance the dental fitness of their patients in the Tampa Bay Area.
After building their Tampa dental practice for 11 years they began construction of their office building in North Tampa on North Dale Mabry Highway.  This building allowed them to increase the variety of dental services offered to their patients in a most comfortable, pleasant environment.
Our practice offers services that improve the overall health, well-being and appearance of our patients. We offer a wide variety of dental services to help patients determine their complete personalized treatment plan and offer them continuity of care in one office.
From dental hygiene and oral health maintenance to
complex multi-disciplinary treatment our services include:
Cosmetic Dentistry, Endodontics,
Elder Care Dentistry, Periodontics, Prosthodontics,
Children's Dentistry, Oral Surgery, Dental Implants,
Various Sedation Options (including IV Sedation),
Zoom, Invisalign, Botox, Juvéderm
and Emergency Dental Services.
Our Dentists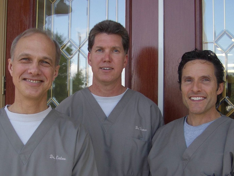 Frederick A. Vance, D.D.S.
Dr. Vance is the Managing Director of Enlow & Vance Dental Partners. He completed his undergraduate degree at the University of South Florida in 1983. He earned his Doctorate of Dental Surgery in Cleveland, Ohio from the Case Western Reserve University School of Dentistry in 1988 and returned to practice in Tampa.
Harold T. Enlow, Jr., D.M.D.
Dr. Enlow graduated from The University of South Florida with an undergraduate degree in Natural Sciences.  He continued his education at The University of Florida School of Dentistry and received his Doctorate of Medical Dentistry degree in 1985.  He returned to practice in Tampa, his hometown.  In addition to dentistry, Dr. Enlow has an intense love of music – please feel free to listen to some of his songs at www.Facebook.com/TheNewRabble.  Dr. Enlow has released an original composition titled "The Amalgam Blues" on YouTube.com.  He also has a YouTube video explaining some basics of Invisalign treatment – visit Tampa Dentist Invisalign.
Mark T. Cullen, D.D.S.
Dr. Cullen received his undergraduate degree from Ohio's Walsh University. He attended graduate school at the University of Akron and graduated from the Case Western Reserve University School of Dentistry in 1986 with his Doctorate of Dental Surgery. He then attended California's Loma Linda Dental University, completing a three-year Dental Implant Residency that included advanced training in providing Intravenous Sedation. Dr. Cullen is Board Certified in Oral Implantology and is a Diplomate in the American Board of Oral Implantology and a Fellow in the American Academy of Implant Dentistry. Dr. Cullen has served as President of the Southern District for the American Academy of Implant Dentistry. DR CULLEN CV
In 2004 Dr. Cullen joined the practice as an associate specializing in surgical procedures. The majority of routine surgical services are now provided in the office for the convenience of the patients.